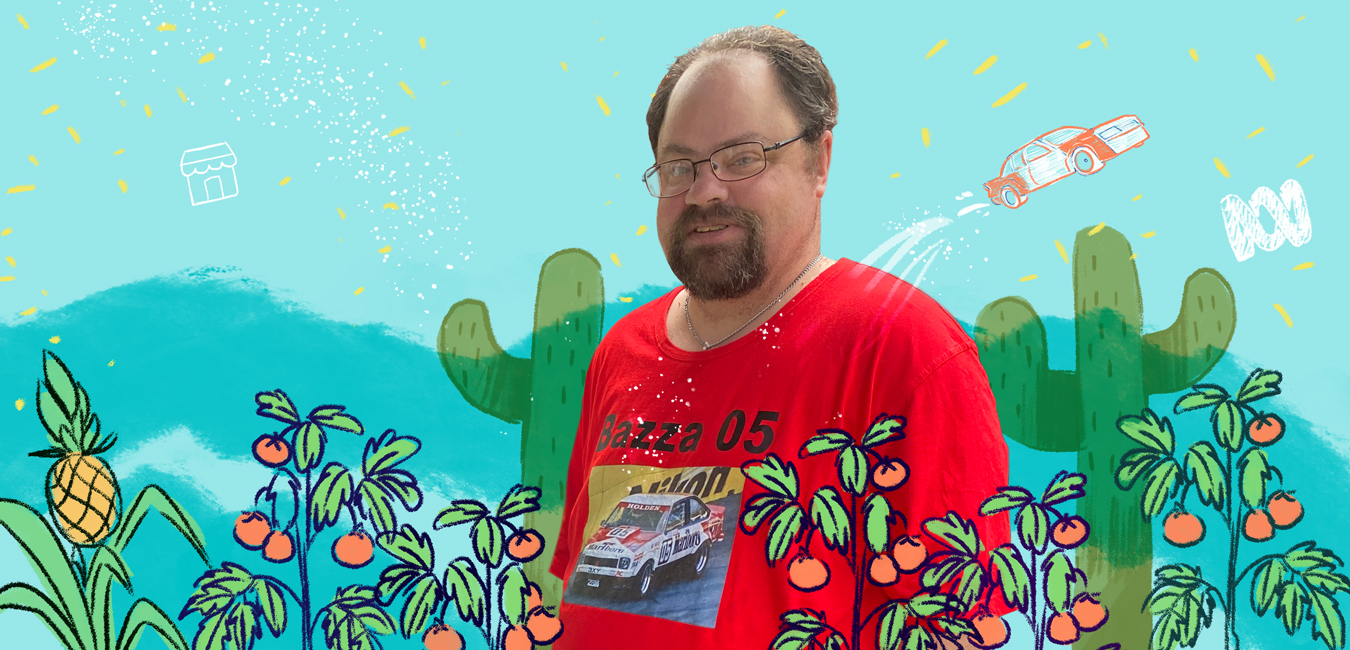 Barry Harwood knows what he loves. Holdens, Peter Brock, gardening and Facebook Marketplace and especially his job at ABC Brisbane.
Barry, who lives independently, is a passionate advocate for increasing the representation of people living with a disability in the workplace and in the media.
Barry says it is important to give people living with a disability a go.
"We have jobs, are in relationships, have families, hang out with our friends and contribute to our community."
Barry has been working at ABC in South Bank three days a week for more than 9 years.
"I work in the Property Department. I make sure everything is tidy, in order and that everyone has water. I get to meet lots of famous people including Kate Ceberano – I gave her an ABC bag."
"I absolutely love my job. During COVID-19 it was hard as I couldn't go into South Bank. But now I can. It is so good to be back.
"Before I started my job, I did work experience with Meals on Wheels. Now with ABC, we are raising money for them."
"I think Meals on Wheels is so important. I get to take people meals and make sure they are not lonely. I love meeting people. And we need to look after each other."
Barry who has been a Five Good Friends member for three years loves his Helpers and the support he receives.
"I have lots of goals, I want to get fit, do more gardening, become a better cook."
"Because of my diabetes I need to watch what I eat. I go to the gym. I have been learning how to cook healthier meals. I have a BBQ now and I can cook on that. I cooked dinner for Mum and Dad."
Visiting Barry's townhouse you can see his love of gardening – with both verandas dotted with succulents, herbs and vegetables.
"I have a little pineapple that is growing and some tomatoes. I want to do more gardening. One of my Helpers taught me about composting and I love going for visits to our local parks."
Barry is very thankful for his Five Good Friends support.
"Five Good Friends is really great", he says with his customary big cheeky grin
Learn more: The benefits of using a NDIS registered provider