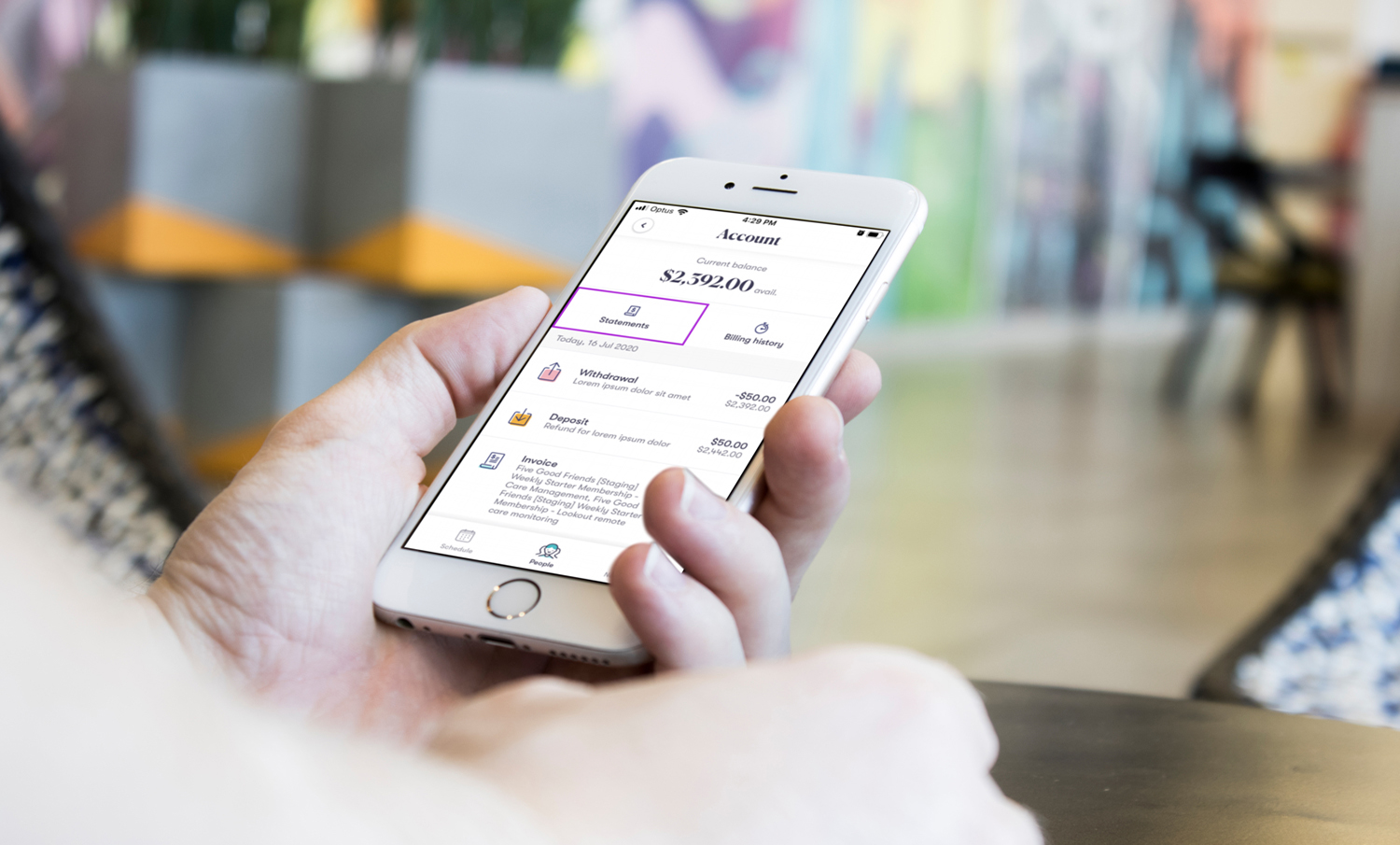 Five Good Friends are pleased to have rolled out a new upgrade on our software's Accounts feature. These updates represent a brand new, transparent and efficient way to monitor Home Care Package funds and balances for our members.
The accounts feature is now a fully integrated fund management tool.
It provides Five Good Friends Members, their family and care staff with an up-to-date view of transactions and available funds as well as printable monthly Home Care Package Statements.
Staying informed and in control.
---
Your feedback tells us that our members and their families want transparency and to stay informed and control.
This importantly includes controlling and understanding of their finances. That's why we've updated the Accounts feature to give our Members and families access to the information they need, so they can know exactly what's happening, at all times with their funds.
Being able to deliver world-class care also means our care team know what funds are available, so support can be planned and managed.
Streamlining accounting and reconciliation.
---
We understand that managing Government Home Care Packages can be a daunting task of reconciling income and expense and providing monthly statements to Members.
With Accounts, expenses are automatically tracked, deposits can be bulk uploaded, and monthly statements are automatically generated.
We designed the statement to be easy to understand, printable and snail-mail ready – with the Billing Recipients address positioned for standard window envelopes.
We wanted the Accounts feature to work alongside existing accounting tools. When it comes time for an organisation to reconcile transactions and balances with their accounting software, a powerful spreadsheet report gives details on all transactions within a definable time period. This joins our existing invoice reports that providing the finance team with everything they need to reconcile transactions.
Structure of new and improved statements
---
Your new Five Good Friends statement has been completely redesigned to be easier to read. It now includes:
Address of Billing Recipient – for easy mailing with windowed envelopes.
Large easy to read font.
Overview with:

Opening balance – carried over from the previous statement.
Total debits – made up of invoices from Helpers and Third-party providers as well as reimbursements to Members for expenses.
Total credits – the amount deposited from Home Care Package funds and Member contributions.
Closing balance – the currently available funds (debit or credit) at the end of the statement period.

Chronological transactions – with descriptions of the invoice, credit, or debit.
FAQ
---
When will members be able to access accounts?
This feature is available now.
Does this replace the existing Home Care Package Statements?
Yes, the existing Statement produced by the Finance team will be replaced by this new statement.
Will Members still receive a weekly invoice summary (formerly called weekly statements)?
HCP Memberships with the accounts will receive a new weekly email to let them know what their current balance is. This will replace the existing weekly invoice summary email.
All other non-HCP Membership will continue to receive the weekly invoice summary email. Invoice summaries were previously called weekly statements, but we renamed them to avoid confusion.
What transactions are included?
All transactions associated with a HCP Members including visits, third-party invoices (e.g. allied health), reimbursements, and deposits from their packages and personal contributions.
How "up-to-date" is it?
It's almost real-time. Helper and third-party invoices are processed weekly and so appear on Mondays. Deposits are uploaded by the finance team when processing funds. This can be done at any time but will most likely happen once a week. Ad-hoc invoices can be transacted at any time and will appear at the time of processing.
Can I still receive a paper statement?
Yes – just let our team know and they can configure the system to send you out a paper statement in addition to your digital one.