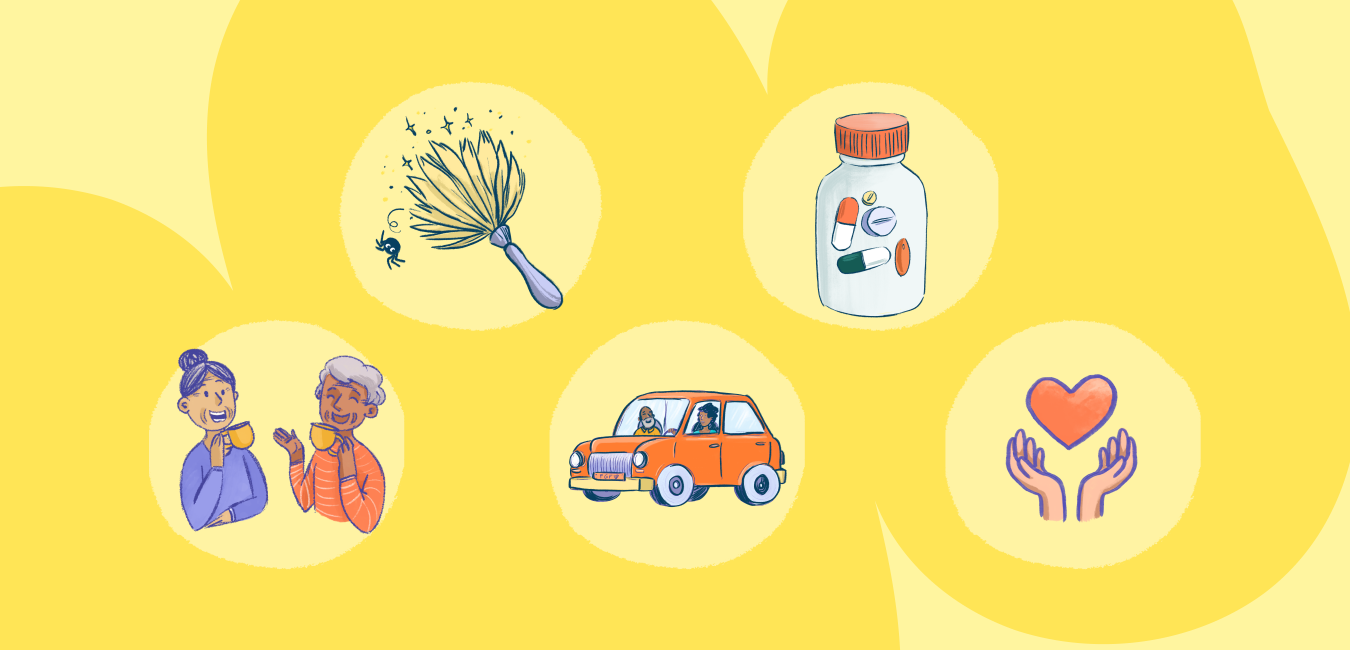 Every day of the week, Helpers on the Five Good Friends platform support Members living in the homes and communities they love.
Helpers come from all walks of life and have different backgrounds, experiences and skills, from careers as diverse as health, event management, hospitality, retail and more. Amazing Helpers bring patience, empathy, good humour, and a dash of life experience to the role.
Many people discount the value of simple day-to-day skills that can make a person a fantastic Helper.
We want to unpack the top 5 services Helpers can provide to our Members - all of which require skills and experience that many of us have already.
Companionship
Five Good Friends understands the value of friendship. It's in our name and at the centre of everything we do.
Building and maintaining strong and healthy relationships with friends and family supports Members to live high-quality and happy lives. At Five Good Friends, we match Members and Helpers who will be able to develop a genuine and caring relationship that is valued.
Helpers bring joy, care, and friendship every day of the week simply by turning up and acting as a companion. This might include playing a game of cards or having a cup of tea. It may seem like a small thing, but these visits enrich the lives of our Members and ensure that someone is looking out for them regularly.
Domestic Assistance
For many of our Members, being able to stay in their own homes means they may need a little help with the housework. Importantly, every Member has their preferences and standards. We support Helpers to go the extra mile to ensure our Member's satisfaction and, importantly, aim to provide time in every visit to focus on the details.
Driving and community access
Lockdowns have taught us that we are not meant to be in the home 24 hours, seven days a week. Building and maintaining connections to the community through participating in regular catch-up, personal interest groups and attending community events ensure a happier, healthier life.
Helpers assist with maintaining active and social community engagement, which can be tailored to every Members's individual goals and interests. Our flexibility will allow Members to see the people and do what they want when they want.
Personal Care
Everyone needs to foster a healthy personal care regime to maintain our dignity and sense of self-worth.
Bathing, oral hygiene, toileting, and dressing are all aspects of personal care. While personal care is essential for a healthy body, good personal hygiene also ensures a good sense of self and is critically important for our mental health.
Helpers are trained to understand that personal hygiene is a private matter, so it is essential to establish good communication. Because Five Good Friends spends the time to match the suitable Helper to every Member, these personal care supports are undertaken respectfully and professionally.
Basic Medication
Medication assistance and management are critical to ensuring a longer, healthier life. Medication mismanagement is one of the most significant causes of hospitalisation for people over 65. NDIS Members can have a range of conditions that require regular medication to ensure they live a long, full and inclusive life.
The Five Good Friends Team works with Members to identify the best way of ensuring good adherence to prescribed medication needs. This can include a combination of gentle prompting and organising medication packaging either by a webster pack or sachet.
When a Member signs up, if medication concerns are identified in the home, we can assist with organising a medication review at a local pharmacy to ensure the best possible outcomes.
Importantly, Five Good Friends' Remote Care Monitoring means that Helpers always have a Clinical Care Team to support them in the home, with our technology able to pick up on any concerning Helper check-out notes.
Become a Helper on the Five Good Friends Platform
Far too often, people dismiss the everyday skills they have to begin a life of meaning, purpose AND earn a living. We call it your Ikigai. (For more on Ikigai, check out the post here.)
As you can see, it is the simple things in life that our Members want to support and assist with. And at every step of the way, we have a dedicated Helper Team to guide you with tips and tricks from growing your Member base to training modules to increase your skill base.
Call our dedicated Helper Team on 1300 787 581 or apply here to join our network of amazing Helpers.