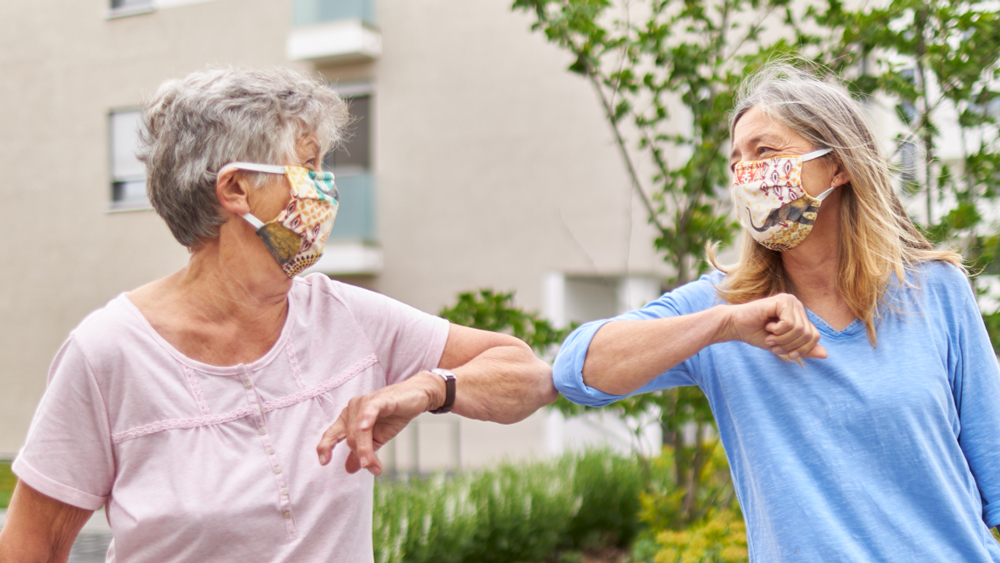 "I don't know what is wrong. I just feel overwhelmed by everything. With my low immune system, it is hard to get out. I have family and friends, but I am really worried about Covid and getting sick. I can't seem to shift these feelings of worry."
Five Good Friends Member, Sally.
COVID-19 has changed our lives in many ways and caused a great deal of uncertainty. Rolling lockdowns mean many people are confined to home, unable to visit their loved ones or engage in the activities that give our lives meaning.
Uncertainty is a compounding factor. Restrictions and rules can change daily. It's not surprising that many of us feel anxious about what the future holds.
While there are many aspects of your life that you can't control because due to the pandemic, that doesn't mean there is nothing you can do. Here are several positive actions or ideas you can implement to improve your mental health and support your wellbeing.
Remember you are not alone
It's important to understand that this is an extremely challenging time, and it is very normal to experience negative emotions. Realising that you are not alone in feeling this way can be helpful. Many other people are experiencing the same emotions and struggling with the same restrictions.
Try to maintain perspective
While it is reasonable for people to be concerned about the outbreak of Covid 19, try to remember that medical, scientific and public health experts around the world are working hard to contain the virus, treat those affected and roll out highly effective vaccines as fast as possible. Find a healthy balance in relation to media coverage
Being exposed to large volumes of negative information can heighten feelings of anxiety. While it's important to stay informed, you may find it useful to limit your media intake if it is upsetting you or your family.
Find new ways to bring meaning to your day
At Five Good Friends we strongly believe that finding a daily purpose can have a significant influence on happiness. Finding meaning during times of hardship is undoubtedly more challenging but can be extremely helpful in reducing feelings of overwhelm.
Try to find new meaning in everyday activities. It can be as simple as phoning a loved one and listening more intently so you can connect more deeply. Trying a new hobby that is conducive to your wellbeing such as mindfulness, meditation, or tai chi. Organising to have a daily phone call or virtual cuppa with a friend or neighbour.
Keep a gratitude journal
When you are faced with a negative situation, the experience can narrow your range of potential actions and thoughts. If you instead, focus on the areas of your life that maximise positive emotions, it is possible to improve your mood and outlook during a challenging experience.
A daily gratitude practice helps by rewiring your brain to scan your environment for the positive. You can practice gratitude for such things as; a beautiful sunset, a conversation with a loved one, your warm home or being able to tend to your garden.
Maintain connection
Being socially isolated can make it more difficult to cope. Research consistently shows that positive social support provides a protective effect against stress. Technology allows you to maintain a strong connection to your friends and family when you can't physically be in their presence. It is important to consistently reach out and contact your loved ones.
Recognise when you need more support
If your suffering and hardship becomes too challenging, it is important to reach out to a professional for support. The Five Good Friends care advice team can be contacted as a first point of call on 1300 787 581. We are here to help and can connect you to the right people.
We also encourage anyone experiencing mental health issues to connect to the following support networks: Contact your local GP.
Beyond Blue - Call 1800 512 348 to speak with a trained mental health professional (24 hours, 7 days a week).
Lifeline - provides support to people experiencing emotional distress. You can speak with a trained crisis supporter:
• over the phone on 13 11 14, available 24 hours 7 days a week • through online chat, every night from 7pm to midnight AET • via text on 0477 13 11 14, between 6pm and midnight AET, 7 days a week