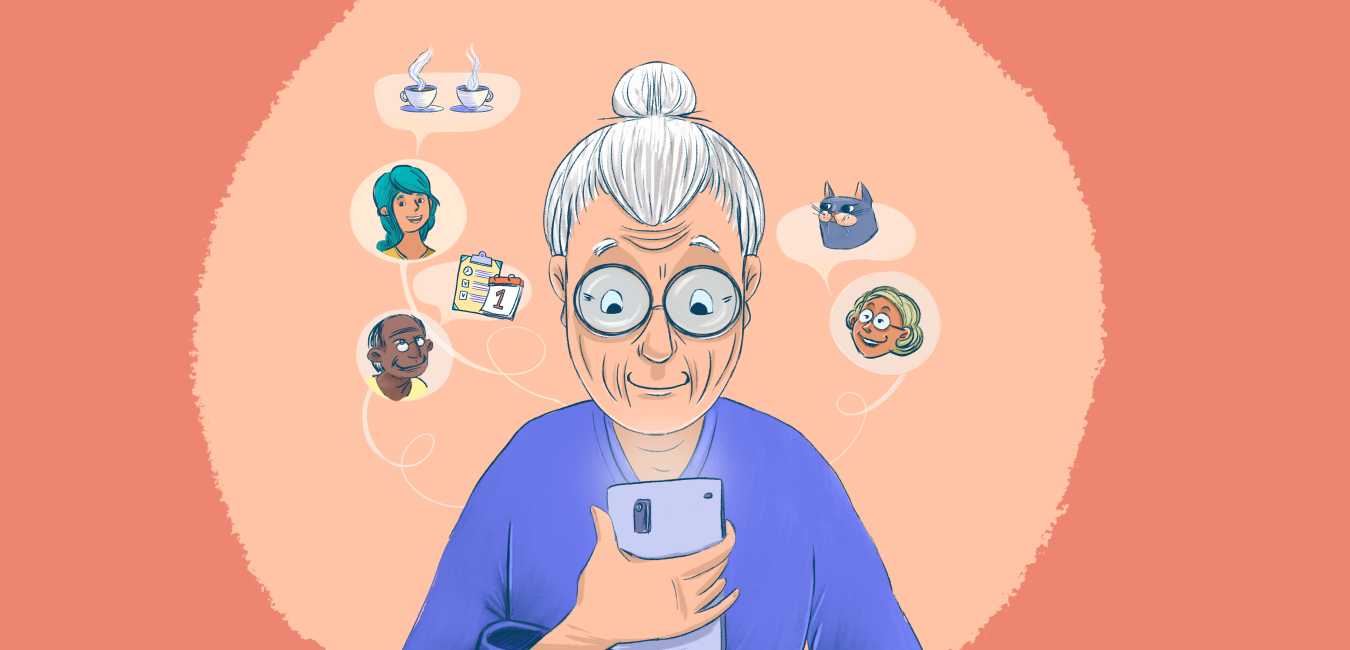 How we use technology to improve home care
Home care technology to make us more human
At Five Good Friends, one of our core values is leveraging technology to make us more human. Every piece of home care technology we use for our Members is to improve the care we provide.
Head of Care Management and Quality, Will Garton, explains how technological advances in home health care have helped him and his team improve outcomes for our Members.
How does technology make us more human?
My role at Five Good Friends is all about leading and supporting our teams to provide the best quality care we can.
Using technology to improve quality of care is vital. We are Australia's first technology-enabled home care provider, but we don't use technology for the sake of it. We use the technology in our Lookout app to improve outcomes and customer experience for our Members.
Our remote care monitoring
Our Lookout app is amazing home care technology. The sophisticated algorithm uses matching technology to help us pair the right Helpers to Members. We use it for rostering, to keep track of accounts and to help you get better recommendations for services. However, one area that really improves our Members' lives is the remote care monitoring capabilities.
Every time our Helpers visit one of our Members, they will write a checkout note about the visit. They might write about the activities they got up to, how the Member is and any other relevant information.
As soon as the Helper submits their report, our remote care monitoring algorithm will analyse it. The algorithm is so sophisticated that if it identifies any actual or potential risk based on the words in the report, or even how the words are being used, then it will flag that note on a dashboard for our Care Managers to review.
What this means is we're not asking our Helpers to be anything other than a great Helper and be able to write accurate notes at the end of their shift. It means their focus is entirely on being a good Helper to the Member. The technology means we have the benefit of an extra layer of monitoring in the home.
Checking in with our Members and carers
Another recent addition to Lookout is our Member surveys. Our surveys help us understand the needs of a Member or their carer so we can set goals and plan strategies to respond to that.
For example, one of the new surveys that we have rolled out is called the Health and Wellbeing survey. When a new Member signs up, we offer them the opportunity to complete the survey. We ask them how they're going in the areas of:
mobility
self-care
usual activity
pain and discomfort
anxiety or depression
The Members then have an opportunity to make a comment and give a general health rating scale. For each question, they can rank their answer on a scale of one to five.
Depending on their answer, it will trigger an action. For example, if a person says they have severe problems walking, it will trigger an alert for the Care Manager to investigate this and see if there's anything else we can do to support the issue. We can create a new goal in their Help plan, refer to a physiotherapist or exercise physiologist, and build a strategy to support them.
The hope is that when we survey them later, their mobility has improved.
We also use other surveys, such as the Member Experience Survey and the Carer Survey. The Carer Survey is important for us as it measures the impact of the carer role and helps us to identify if the carer is struggling and if we need to target any support specifically for them.
Communicating with our Members and Helpers
We also use our Lookout app for communicating with our Members and carers. This home care technology can also help us collaborate internally and provide better care. For example, say a Member calls their Care Coordinator and reports an issue. Using our ticket functionality, we can collaborate with any person in the Five Good Friends care team.
Using Lookout, we document the team and Member collaboration in the Member's record. It means that by using Lookout, we can do anything from solving a one-off complex problem to conducting a Member Annual Review.
Underneath it all, with the right technology, we have more time to concentrate on providing better care to our Members.
Want to know more about how our technology can make us more human? Get in touch with us on 1300 787 581.
Learn more: Consumer directed care: What is it and how it can benefit you?