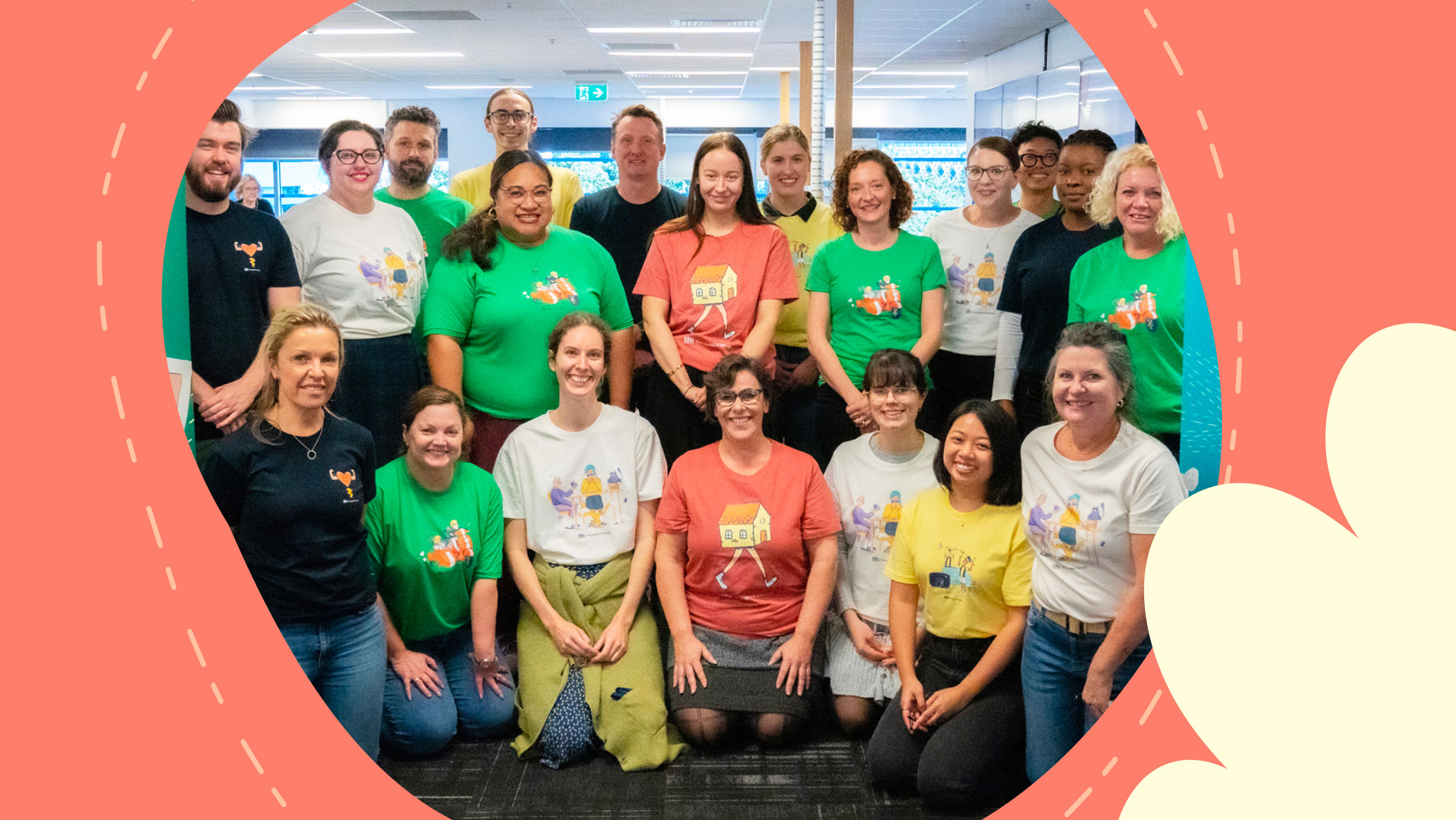 How we grow a high performing culture at Five Good Friends
Aged and disability support should always be people-first
The last few years have seen a period of significant change in the disability and aged care sectors. COVID-19, the Royal Commission into Aged Care and the Royal Commission into Violence, Abuse, Neglect and Exploitation of People with Disability have highlighted how we can improve the sectors.
We believe if providers align their leadership with their mission, it benefits not only the people we care for but our employees as well. As our population ages, we need to maintain our workforce and part of that is valuing and appreciating the people we already have working in it.
With Employee Appreciation Day on the 3rd March, our Head of People, Sarah Crealy explains how we maintain our high performance culture at Five Good Friends.
Living our purpose
We're inspired by the Japanese word 'Ikigai' which means "life purpose". It means defining your personal meaning of life in relation to your mission, talents, passions, and profession.
When Five Good Friends began, we identified a significant international study – the Blue Zone Study. The study identified places around the world where people regularly live vibrant and healthy lives past the age of 100 – naming these Blue Zones. People living in these zones share a key thing in common: friendship. The power of friendship is believed to contribute to a much better quality of life as we grow older.
At the centre of friendship is the concept of Moais. The sense and creation of community and friendship are perhaps seen at their greatest in the blue Zone of Okinawa, Japan. The Blue Zone study also found that the Okinawan community are very clear on their Ikigai.
Research into Ikagai shows that a life of purpose can lead to a more fulfilling life and increased longevity. At its core, Ikigai, is the connectivity of passion, profession, vocation and mission. Do what you love, what you are good at, what the world needs and what you can be paid for in your local community.
At Five Good Friends, our purpose is to empower people to maintain a quality lifestyle on their own terms. This applies to both our clients and our employees. For our employees, it means they have the opportunity to share their talents and passions at work and use them for a greater purpose.
Their job directly serves the community and helps others live a better life.
I know for myself, after many years in engineering and tech, I was so excited to bring my skills to a company that had such a wonderful purpose – that is Ikigai. Sarah Crealy, Head of People.
The numbers show this purpose enhances our culture. Our most recent CultureAmp survey showed our employee engagement scores were 7% higher than the top 25% ranking companies in our category.
Our people first culture
In my experience, many organisations define 'culture' by their published values or how many fun activities they have on the calendar. In our opinion, a workplace culture should be more about how people experience their working lives.
At Five Good Friends, we have a people-first culture. This means that at the heart of every decision we make, we consider how it will improve the lives of our Members, and how it will provide meaningful work to our network of Helpers. As a result, our employees work in a high trust, friendly and transparent environment based on seeking good outcomes.
As we grow, we are intentional in how we expand to serve more people. We make sure we understand how our culture feeds into every activity we do and proactively address those things that don't fit our culture.
Post COVID-19, we're focused on finding the balance between work that requires collaboration and work that requires concentration. We know that together, when we collaborate we make better decisions, but we don't ever see the flexibility of working from home going away. We are also more mindful of our employee well-being and are establishing a Wellbeing Committee to help us provide an experience that will support our mental, physical and social well-being.
Choosing the right people
Diversity, equity and inclusion is a crucial component in choosing the right people for our business. We have great practices around blind recruitment where we take out the names of the candidates to negate unconscious bias. We also have a newly written DE&I Statement and our 2023 DE&I Plan is currently being developed. Our leadership team is working with the Centre of Culture Diversity in Ageing to help strengthen these practices even further.
As a result, we choose employees that are aligned with our culture, no matter their gender, sexuality, disability or race.
Sometimes the simplest activities are the most impactful
Every activity we do supports and influences our culture. But the activity that has the most impact is called the 'Very Brady Thursday'. It's a zoom meeting hosted by our two founders, CEO Simon Lockyer and COO Nathan Betteridge, that was named after seeing so many smiling faces on the screen!
Very Brady Thursday or VBT is an all-hands staff meeting that happens every second Thursday. It's a time for us to talk openly about what's happening in our business. We talk about new initiatives, the challenges we're facing, and how we can continue to move in the same direction. The frequency means there is no lag in getting information out to distributed teams and it helps us keep priorities front of mind.
Appreciating our employees
We believe celebrating and appreciating our employees is not just about holding annual parties or recognising outstanding performance (although we certainly like to do that!). It's also about creating a work environment where employees feel valued, respected, and supported on a daily basis.
We trust in their work by giving our employees the autonomy and resources they need to perform their jobs effectively and efficiently. This not only fosters a sense of responsibility and ownership, but it also demonstrates that their contributions are valuable and appreciated.
We respect their work and family time. This involves acknowledging that employees have lives outside of work and that they need to balance their personal and professional responsibilities.
When we prioritise these aspects of employee well-being, we not only celebrate them but also create a culture that encourages and supports their growth, development, and success.
If you'd like to learn more about what makes Five Good Friends a great place to work, visit our careers page.