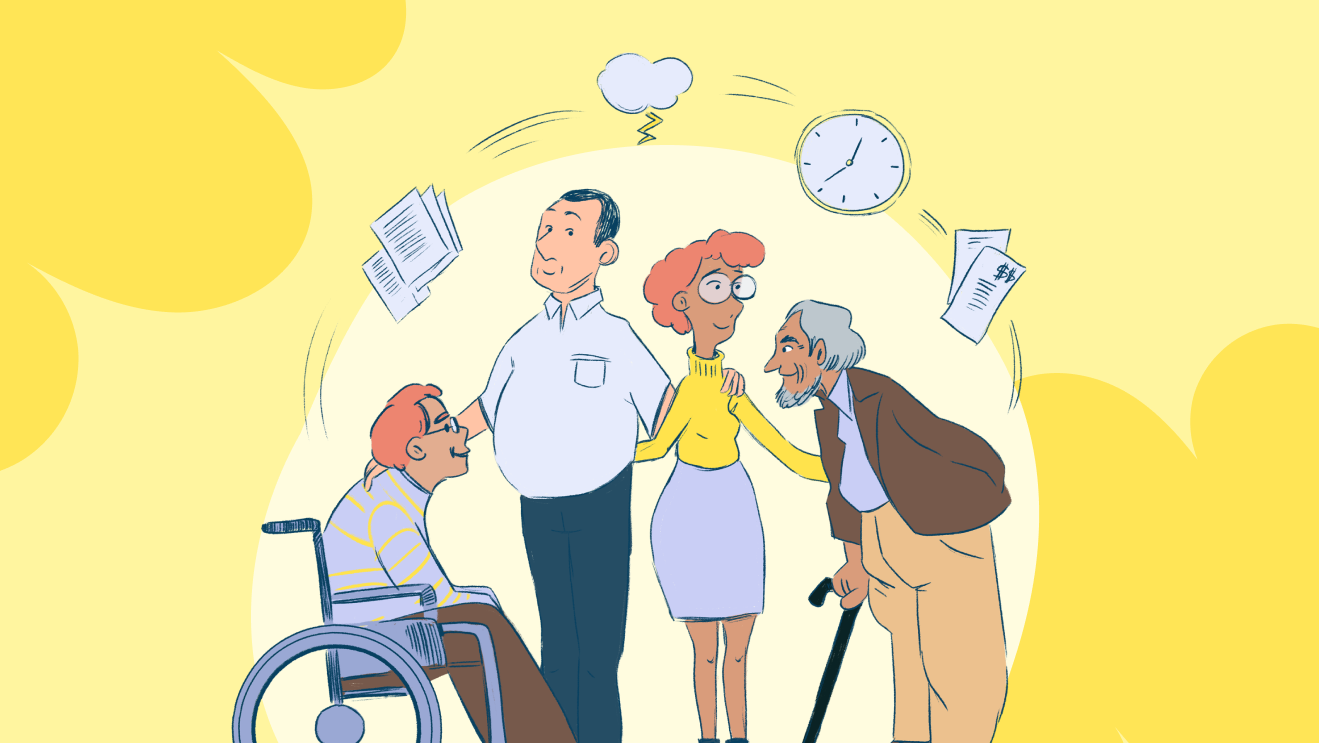 How to navigate aged care services for your loved ones, while looking after your adult kids
What is the sandwich generation?
Are you part of the sandwich generation? This group are mostly middle-aged people who are supporting both their ageing parents and growing children at the same time. A report has found that there is an increasing number of Australians "sandwiched" between meeting the needs of growing children, ageing parents and work. There are many reasons - younger people are staying in the family home for longer and the needs of older adults are greater because they are living longer.
The term comes because you feel "sandwiched" between caring for ageing parents and your children. Your parents may be ill, unable to perform various tasks or in need of financial support. Your children still require financial, physical, and emotional support. It can be pretty overwhelming. It's estimated that about 1.5 million Australians in their 40s and 50s are juggling looking after their ageing parents and their own children.
The challenges of living in the sandwich generation
It can be stressful dealing with the demands of your ageing parents and adult children. Plus, you're often trying to juggle your own career. Some of these challenges can include:
Emotional stress - trying to balance all the needs of your parents and kids. The feeling of being pulled in different directions.
Financial toll – it may be a struggle to find the money to care for both ageing parents and adult children.
Not enough time – not just time for yourself but you may not have enough time to research services and plan for the future.
Work-life balance suffers – it can lead to burnout and even relationship strains.
Tips to help you navigate the sandwich years
Navigating the sandwich years is hard, however, there are some ways you can help reduce the burden. There are even some support services available for people just like you. Here are some tips:
Tip 1: Prioritise self-care
Self-care is often sacrificed during the sandwich years as you try to juggle all those multiple life issues at the same time. But you can't pour from an empty cup, so it's important to maintain your own physical and emotional well-being so you can take care of others. Try to schedule in some time each week for relaxation, exercise, and activities that you enjoy.
Tip 2: Plan your finances and budget
Caring for multiple generations at the same time can be financially straining, especially with the rising costs of living. Get some financial advice from a financial planner. They can help you develop a comprehensive financial plan that considers the needs of your adult children, your ageing parents, and yourself. Another alternative is chatting to the free Financial Information Service which can help you make informed decisions about your finances.
Tip 3: Share responsibilities
Don't be afraid to ask other family members and friends to help. Often people are quite happy to lend a hand but aren't sure what would make the most impact. Write a list of ways that family or friends can help and send it to them, so they have a choice of tasks. If you have adult children, you could also ask them to pitch in more, so the burden doesn't all fall on you. You could also get some help around your home, including hiring house cleaners, gardeners or even meal delivery services. If your ageing parents live with you, you may be eligible for government funding to help you out. You may also be eligible for government funded respite support if you need a longer break. Remember, you don't have to do everything on your own.
Tip 4: Seek available support
It's important to explore the support and resources that are available in Australia. Have a look into government programs and services, such as the Carer Allowance, Carer Gateway, My Aged Care and other financial assistance. You could join local support groups for caregivers to get advice and share ideas with others going through the same thing. Connecting with others who are experiencing similar challenges can be a great help.
Tip 5: Communicate
It's important you be open and honest with both your parents and your children. Talk about your own needs and give them the chance to express how they feel. Often, they may not realise the effect caring is having on you.
What happens if my child needs the NDIS at the same time my parents need aged care funding?
There may be scenarios where your adult children need NDIS funding at the same time as your parents need aged care. This can be overwhelming to manage. There are lots of organisations like Five Good Friends who can help guide you through the process. We can help you with initial assessments, developing plans, and continuous reviews. Being aware of the support services available to you can help reduce the stress and emotional toll down the track.
If you'd like some help with some support for your ageing parents or your children, get in touch with our team. At Five Good Friends, we're a disability provider that understands aged care, so we're the perfect care partner in your household.
Learn more: Disability support services: how to access the NDIS.