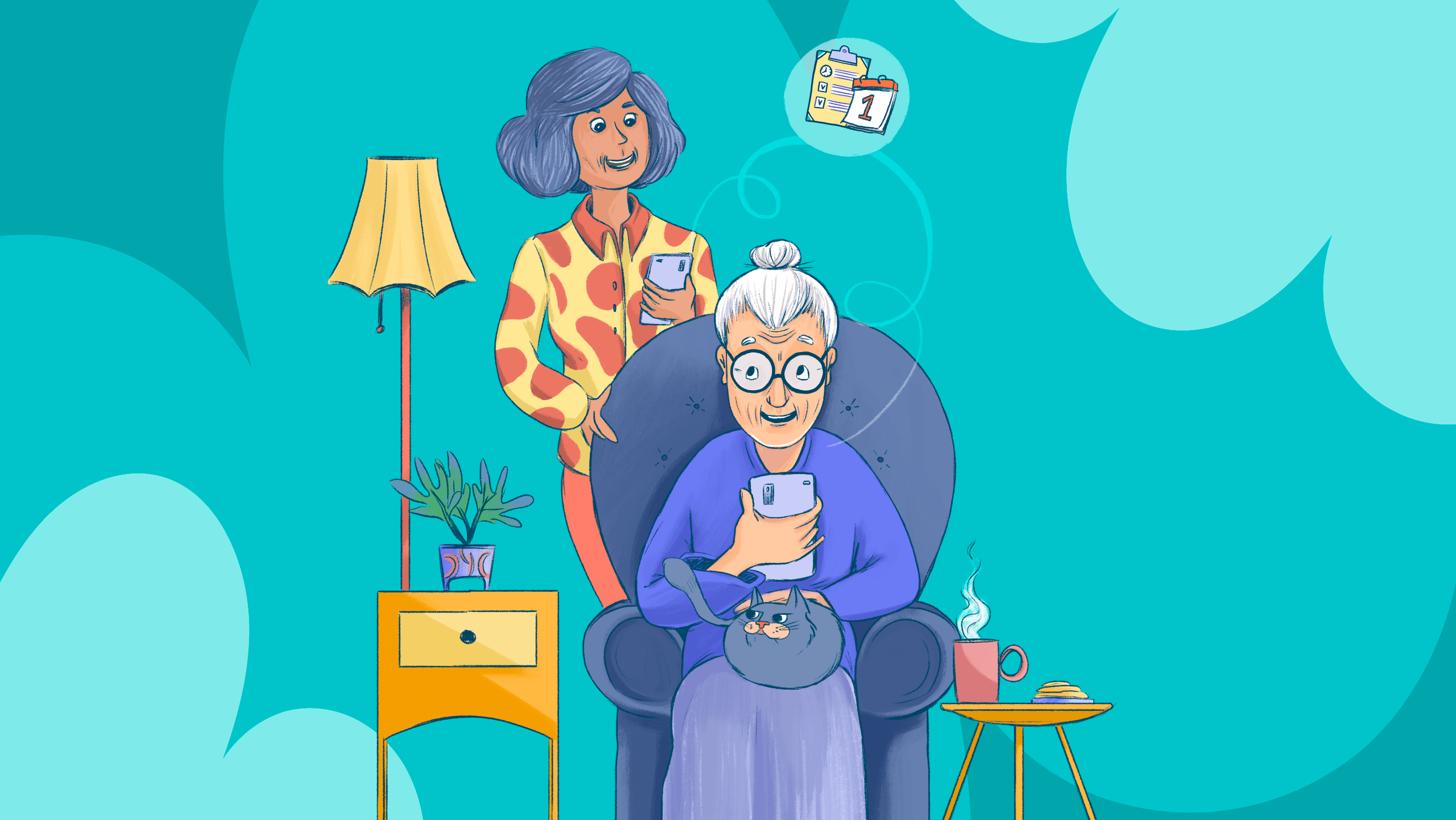 Top apps and gadgets to support carers
Gadgets and assistive technology for carer support
Australia has 2.65 million unpaid carers and we know how challenging and rewarding your work can be. This week (15th – 21st October 2023) is National Carers Week and it's a time for us to recognise, celebrate and raise awareness of all the great work you do.
In honour of National Carers Week, we're looking at the world of technology. What innovative apps, gadgets and assistive technology can help support carers and manage your responsibilities? Here's what we found.
Gadgets to improve safety at home
You might have heard of wearable devices that people can wear around their neck. They're called Personal Emergency Response Systems (PERS) and if a person falls or has an accident, they can press a button to get help during an emergency. It's worth noting that some people with dementia may not remember to activate the device if they've had a fall.
Another option is a wearable watch like an Apple Watch. These often have built in fall detectors which can contact you or emergency services if the person wearing it has a fall.
Why they're great for carers: You can't always be there 24/7. These devices give your loved one immediate help when they need it, adding another safety layer and level of reassurance.
Apps to help you share the load
There are now lots of apps available to help you coordinate care for your loved one. You can do things like create to-do lists, meal plans or share important information like schedules, medication and other updates. Some popular apps include:
Why they're great for carers: Managing care should be a team effort. When friends or family members ask what they can do, this helps you share what's needed at a glance.
Apps to improve support for people with dementia
If your loved one is living with dementia, Dementia Australia has a great range of apps for carers to help you provide support. For example, there's:
Why they're great for carers: It's challenging to care for a loved one with dementia. These apps can help you understand what they're going through and can improve the life they're living at home.
Gadgets to give your loved one independence
If your loved one is bed bound or in a wheelchair, it can be hard for them to do simple things like turn on the light or listen to some music. However, there are plenty of smart home devices that help them control household appliances and devices with an app or a button.
There is a vast range of assistive technology, including automated doors, blinds and security systems. They can also be voice activated with devices like Google Nest, Amazon Alexa or other brands, so your loved one can be independent even if using technology is a challenge. You may even be able to get funding for these technologies from the NDIS or your Home Care Package.
Why they're great for carers: They can help your loved one maintain independence, plus you can monitor home environments even when you're not there.
Apps for medication tracking
Medication management can be complicated so it's important to have a foolproof system so you know exactly what needs to be taken and when. There are lots of apps that can help you keep track of medications, dosages and schedules with reminders so you don't forget.
Some popular apps include:
Why it's great for carers: Making sure your loved one takes their medication on time and correctly can be daunting. This takes the guesswork out of it and gives you peace of mind.
Apps to help you get the support you need
As a carer, you're probably used to thinking about your loved one's needs before your own. You've probably heard the metaphor for self-care that you need to put your own oxygen mask on first before you can help others.
You might consider regular mindfulness with apps like Calm or Smiling Mind. Carers Gateway has self-guided coaching where you can think about where you're going and how you'd like to get there. Each session includes tips and stories from other Australian carers.
You could also look into online peer support groups and online courses to help you improve your own wellbeing.
Why it's great for carers: It's important that you make sure you look after yourself and find space to consider your own health.
Podcasts so you know you're not alone
Although there are millions of carers in Australia and even more overseas, it can be quite lonely, particularly if your loved one can't get out much. Get yourself some headphones and listen to some podcasts when you're doing chores or going for a walk around the block.
Here are some podcasts from other carers like you:
Why it's great for carers: With podcasts, you don't have to leave the house to feel a sense of connection.
Get the Lookout App to connect with your Five Good Friends Helpers
At Five Good Friends, we use the Lookout App to connect you and your family with us and your loved one's Helper. You can leave notes for your Helper and they will write notes after each visit so you can keep up to date.
We use remote care monitoring technology to automatically flag if something seems to be wrong so we can do extra checks to find out if everything is ok.
Why it's great for carers: Our technology provides an extra level of security so you know your loved one is looked after, even when you can't be there.
If you're a carer for an older person or someone with a disability and would like some extra help, get in touch with us. We can talk to you about your needs and help you understand what support and technology might make you and your loved one's lives easier. Give us a call.
Learn more: Understanding government funding for home care