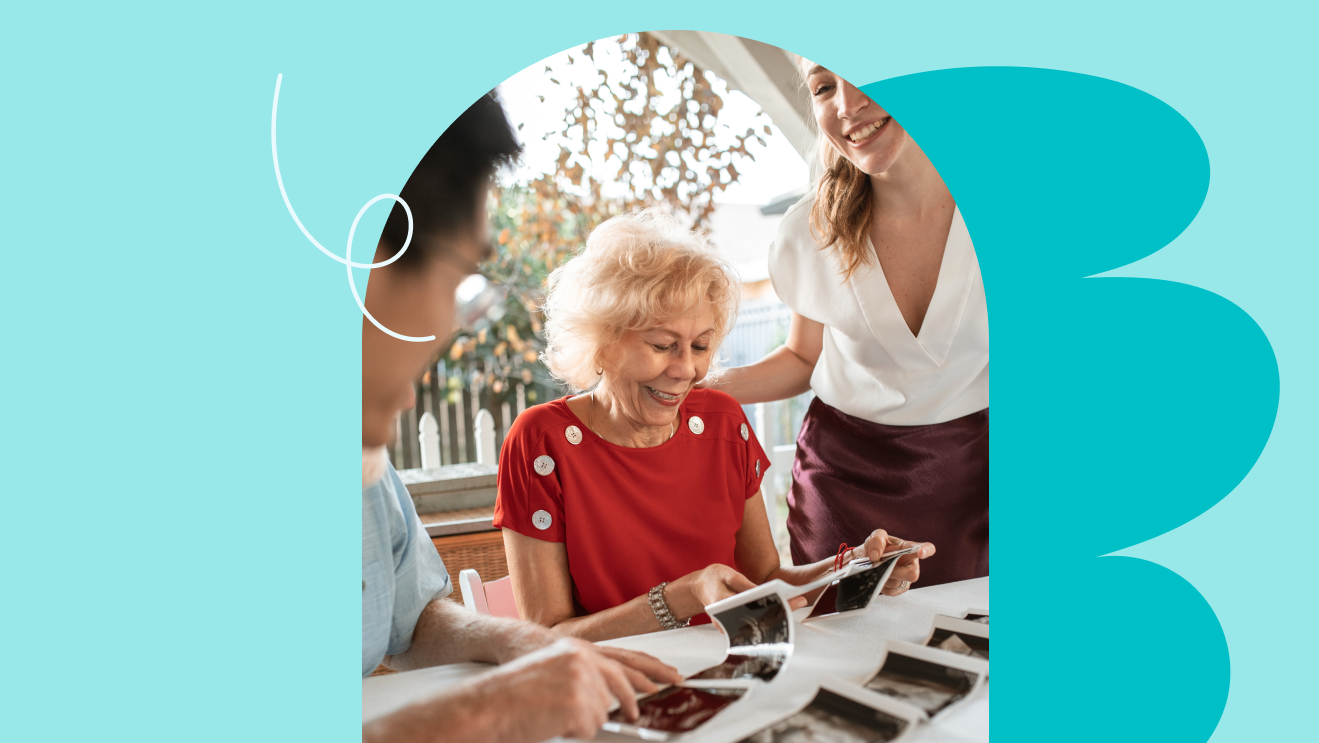 7 tips to connect with our elderly friends and family
Why we can all benefit from social connection
Valentine's Day is almost upon us once again. For many people, it's a traditional day to spoil our partners, with either a meal out or some of those ubiquitous red roses. However, Valentine's Day doesn't just have to be a day for romance. It can also be a day where we celebrate the ones we love and enjoy the benefits of social connection.
At Five Good Friends, we believe in the power of friendship. We know that when people are socially active in their communities, they'll live longer, healthier and happier lives. This is particularly important when our loved ones are finding it hard to get out and about or have a mental cognition decline from illnesses like dementia and Alzheimer's.
In the spirit of Valentine's Day, we've compiled our favourite tips for connecting with our elderly friends and family.
1. Share activities together that you both enjoy
If your loved one has physical limitations or is suffering from a disease like dementia, it might be harder for you both to continue to enjoy the activities you used to enjoy together. However, you can connect through those interests, just in a different way.
For example, if you and your loved one always used to love going out for dinner but they aren't able to get out and about as easily anymore, you could bring the dining experience to them. You could get some takeaway from a favourite restaurant and enjoy a meal together.
You could take a similar approach if you used to enjoy travelling to far-flung destinations or visiting new landmarks. Instead, you could visit monuments or exhibitions in your own town and or think of ways you can explore the world from home through technology.
Past hobbies and activities you used to enjoy can be a great basis to start new traditions and things you can enjoy together.
2. Take time to reminisce
If doing a structured activity is too much, you can still connect with someone with dementia through the power of reminiscing. Often, older people with memory issues can remember things in the distant past more easily than the short-term.
When you next visit your loved one, bring some photos, letters or videos with you so you can both laugh and reminisce about shared experiences, holidays and special moments.
You could even create a memory book together as an ongoing project. You could collate photos either in a scrapbook or online and create a book that features mementoes, stories and drawings that can be enjoyed in the times to come.
3. Try something new
You don't have to stick with things you used to do in the past, either. You could start new traditions such as going for walks, having ice cream together, watching the birds or sitting and enjoying each other's company.
It doesn't have to be for long if you're time poor or find it difficult to see them. Even brief but regular visits can bring joy and comfort to your loved one.
4. Realise it's ok to have different levels of participation
When you're doing an activity with your friend, they might not take part in the way you're used to. However, even if they're just sitting and watching the experience, there can still be a benefit of social connection.
For example, you and your friend may have loved doing tricky puzzles together. You may still share this activity, but you may need to:
Alter the difficulty of the puzzle.
Help your friend find the right pieces.
Help them place the pieces.
Talk to them about the picture in the puzzle.
Ask their opinion about where the pieces should go.
Do the puzzle while they watch.
5. Adjust your communication style
Sometimes people with dementia need a bit more time and patience when you're communicating with them. It's important that you speak clearly without using complex language. Use direct questions and don't give them too many options when asking their opinion.
When they're communicating with you, it's important to be patient and don't rush them or assume what they're going to say. They may have trouble with memory recall and may say the wrong thing, but don't correct them. Just try to redirect the conversation in a positive way.
6. Don't put too much pressure on yourself or them
Sometimes things don't go to plan, and that's ok. It's important to be flexible when you're connecting with someone with dementia. We all have bad days and there will be days when they may not remember who you are or are showing more feelings of anger or fear.
It's also important to remember that silence isn't necessarily a bad thing. You could hold hands, go for a walk together or simply enjoy the solitude.
7. Be kind to yourself
Sometimes visiting an elderly loved one, particularly if they have cognitive difficulties, may be sad or hard. It's ok to feel this way. Consider talking to an understanding friend after your visit or call the National Dementia Helpline on 1800 100 500.
Many of these tips were adapted from Dementia Australia's tip sheets. To learn more, visit their website.
Would you like to learn how we use friendship to help our Members live healthier, happier lives? Get in touch with our friendly staff at Five Good Friends who can explain more about our approach.
Learn more: What's the difference between Commowealth Home Support Programme vs Home Care package?