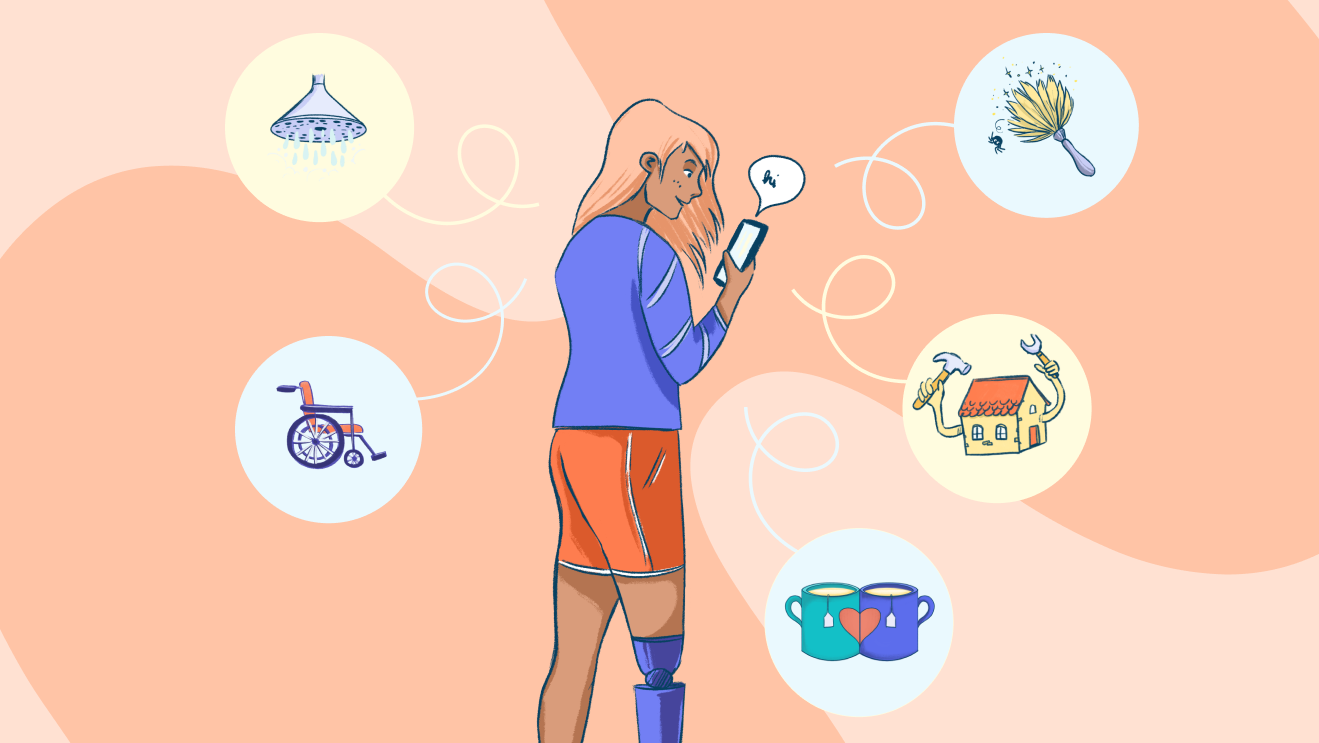 What can NDIS funds be used for?
Getting started with the NDIS
One of the most common questions we get asked by people who have just started researching the NDIS is what can NDIS funds be used for? At the beginning, it can be really difficult to understand what sort of funding is provided under the NDIS and what you will need to fund yourself.
Here we look at what NDIS funds can be used for.
Getting your NDIS plan
Before you receive NDIS funding, you need to work out if you're eligible.
Requirements include:
being aged between 7 and 64,
being an Australian citizen, permanent resident or Protected Special Category Visa holder, and
living in Australia.
If you have a disability caused by a permanent impairment and need disability-specific supports to complete daily life activities, you can put together an application.
If you're approved for an NDIS plan, you will create some goals of things you want to achieve. Everyone's goals will be different depending on who you are, your disability and how independent you want to be. Some examples of goals could be:
"By the end of the year, I want to be able to shower on my own without a support worker."
"I want to learn how to drive so I can get to work."
"In the next few years, I'd like to move out on my own."
If you're not sure how to create goals, don't worry, there is plenty of support available. We can help you at Five Good Friends or you can talk with family, friends or your Local Area Coordinator.
How your NDIS funds can help with your goals
After you've created your goals, you need to work out how your NDIS funds can help you achieve those goals. The NDIS will fund 'Reasonable and Necessary Supports'. This means your funding will have to follow certain criteria.
According to the NDIS, the criteria is:
The support is related to your disability.
The support will help you pursue your goals.
The support will reduce disability related barriers and help you take part in activities to increase your social and economic participation.
The support is value for money, both when looking at the benefits you may receive and the cost of alternative supports. The NDIS may also look at whether the funding will reduce the cost of funding other supports in the long term.
There is good practice and evidence that the support is likely to be beneficial. They won't need an expert report for every support, particularly if it's widely accepted that it suits someone with your disability needs.
The support is needed to complement the informal supports you already have from family, carers, informal networks and the community.
The most appropriate funding is from the NDIS.
The support isn't already funded by another service system, agency, person or body.
What won't the NDIS fund?
The NDIS won't fund these supports:
If it will cause harm to you or others.
If it isn't related to your disability.
If it's considered a day-to-day living cost such as food, rent or utility.
If it duplicates other supports delivered by the NDIS.
If it's against the law.
If it's income replacement.
If it's the responsibility of other service systems to provide, such as from the education system, state government or other government system.
How is your NDIS plan funded?
You will receive your NDIS funding within three types of support categories. They are Core Supports budget, Capacity Building budget and Capital Supports budget.
1. Core Supports budget
Within Core Supports, there are four support categories. Core Supports is considered the most flexible budget because in many cases you can use your funding across the following categories depending on how your goals change.
Assistance with Daily Life which includes your everyday personal needs, cleaning and house maintenance.
Consumables such as continence items, equipment to improve your mobility and low-cost assistive tech.
Assistance with Social & Community Participation such as someone to help you participate in a community activity.
Transport to help you achieve your goals. Transport funding is less flexible to other funding and how it's paid will be different for each person.
2. Capacity Building budget
This budget is to help you increase your independence to help you achieve your goals. Unlike the Core Supports budget, you can't move your budget from one section to the next.
The categories in Capacity Building are:
Support coordination – a fixed amount for a support coordinator who can help you get more from your plan.
Improved living arrangements – support to help you find and maintain somewhere to live.
Increased social and community participation – training and support to improve your social skills and help you participate in community activities.
Finding and keeping a job – training to help you get a job and support when you're in employment.
Improved relationships – support to help you develop positive behaviours.
Improved health and wellbeing – exercise or diet advice to help you stay healthy. This does not include gym memberships.
Improved learning – training and advice to help you pursue education such as school, TAFE or university.
Improved life choices – Plan management to help you manage your plan and pay for services.
Improved daily living – assessment, training or therapy to help you improve independence, increase your skills or improve community participation.
3. Capital Supports budget
The third budget you may have funding for is Capital Supports. This is for one off purchases that can help you live more independently. They include things like higher-cost assistive technology such as a wheelchair or car modifications.
You may also get Capital Supports funding to help pay for home modifications such as handrails or Specialist Disability Accommodation if you need special housing because of your disability.
Can I buy this with my NDIS funding?
If you're not sure how to spend NDIS money, the first step is to work out if you can buy the item in your plan. At Five Good Friends, we have created a 'Can I buy this' tool where you can follow a checklist and work out whether it's likely that your NDIS plan may fund the purchase. Visit this page to download the checklist.
It's important to remember that you have choice and control over how your NDIS plan is spent, as long as it fits within the guidelines. If you'd like more help to work out if a purchase is right for you, contact your NDIA Planner, LAC or Support Coordinator to discuss.
Are you interested in how Five Good Friends Support Coordinators can help you make the best use of your plan? Get in touch with us and we can chat to you about how we can help.
Learn more: NDIS - how do I know if I'm eligible?